Why Plan Your Stay With Us?
Waikoloa Vacation Rentals has been working to help make dream vacations to the Big island of Hawaii come true for over a decade. Whether you are looking to stay at a private home or a vacation villa rental at Hualalai, we can help you. Contact us today at (808)987-4519 or info@hualalaivacationrentals.com to help you plan your next dream vacation!
Hualalai vacation rentals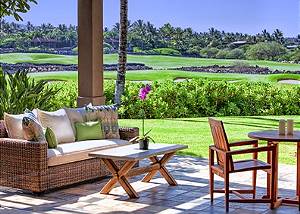 Waiulu Villa 133C
3 Beds / 3.5 Baths / Garden View
The beautifully furnished 3 bedroom Hualalai villa offers easy access to five star amenities as well offers the utmost luxury one could desire in a vacation rental.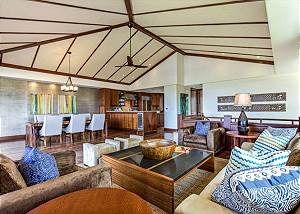 KeAlaula 217A
3 Beds / 3.5 Baths / Ocean View
Enjoy luxury living at this spacious three bedroom oceanview townhome at the prestigious Hualalai Resort!
Hualalai Resort
Vacation Villa and Home Rentals
Located on the Kohala Coast of the Big Island of Hawaii, Hualalai is a magnificent oceanfront resort. From the moment you enter Hualalai resort you will feel the exclusiveness.
Hualalai is filled with all the amenities one could desire during their vacation. Hualalai is the only resort on the Big Island of Hawaii that vacation rental guests get to enjoy the amenities of hotel within the resort. The Four Seasons Hualalai is the top rated hotel on the Big Island of Hawaii. This hotel offers amazing service and all the amenities anyone could desire on a vacation including five pools. The world class Jack Nicklaus golf course is exclusively used by guests at Hualalai. There is an award winning Hualalai Sports Club which features a lap pool, fitness center, tennis courts along with a fully trained staff. The already award winning Hualalai Spa was just recently renovated and is spectacular. Enjoy beautiful white sand beaches.
Hualalai is filled with an array of vacation homes. From luxury two and three bedroom villas to large oceanfront private homes, Hualalai has a luxury vacation home for everyone.
We not only focus on providing a great vacation home for you, but also on offering you excellent service while staying at Hualalai. While staying at one of the properties you will find a well stocked home and also have access to a concierge service to help make your stay at Hualalai perfect.
Call us today at (808) 987-4519 for help planning your vacation at Hualalai.